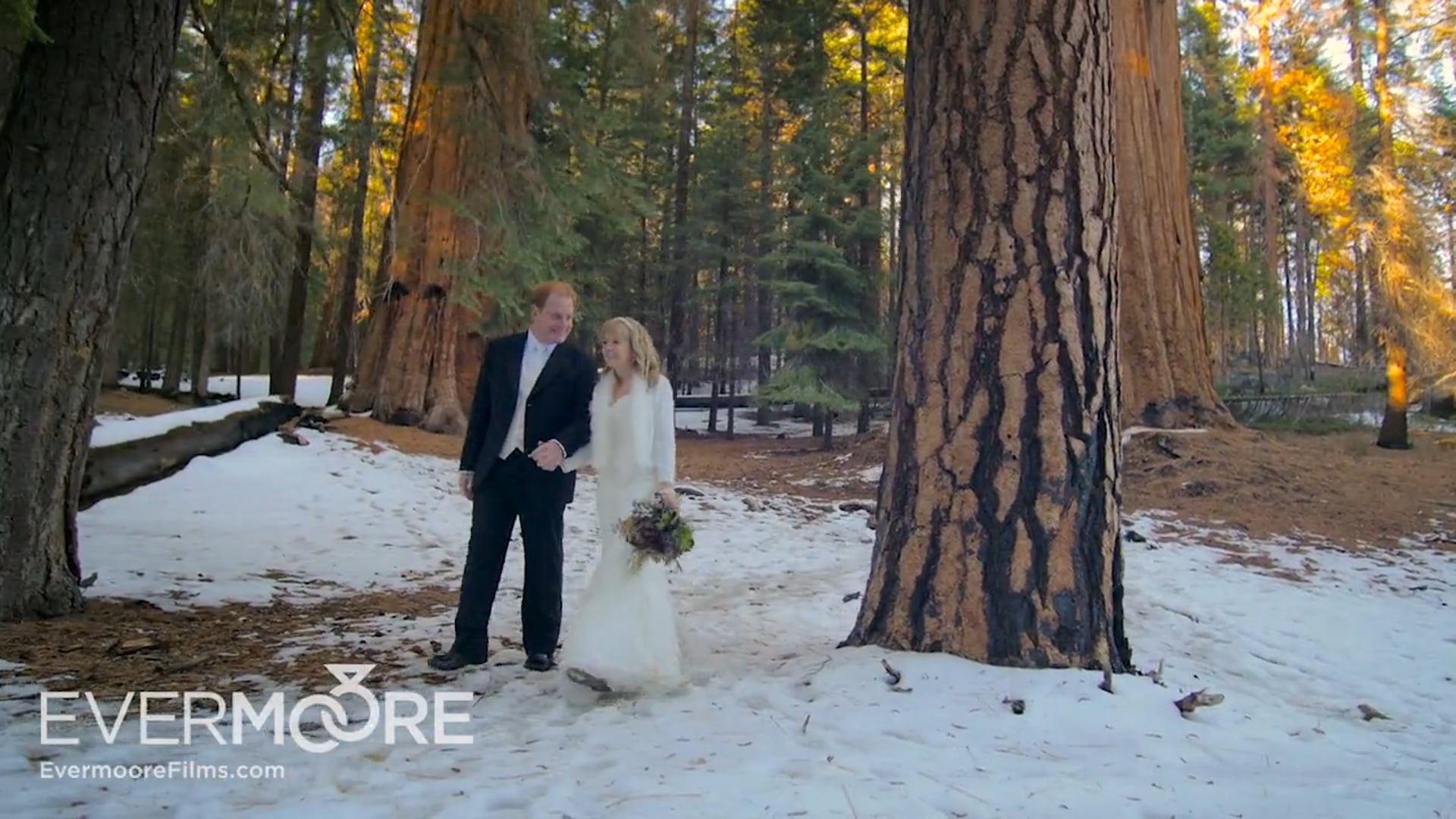 It was November 14th, 2015, and the cozy, mountain cabin of Nature's Cathedral was awake with excitement. Today was the big day! Snow was shoveled from the deck and chairs were set up and covered. Bows were tied, a runner set down, flowers passed out, and everyone couldn't believe this day had finally come! Dan and Sandra were about to get married at a brand new wedding venue, Nature's Cathedral, and wanted a special custom wedding film to tell the whole story and feature all of the vendors involved.
Dan and the men were hiding out in the Groom's Cottage, pulling out their JoS. A. Bank tuxedos for this special occasion, complete with a special pair of groom socks for Dan! Of course, the ladies were in the main cabin making the final curls and throwing on the last touches of blush and eyeshadow before the ceremony. Sandra was zipped up into her beautiful wedding dress from Enchanted Bridal, perfectly altered to taste by Mary Rita from Sew Elegant Bridal Veils & Alterations. Everyone was ready and there was plenty of time for a sneak peek – or first look – before the ceremony began. So Dan was told to wait by the swing and his bride would be there in just a minute!
Sandra tapped Dan on the shoulder and glowed as he turned to face her. The smiles and giggles between them were proof enough of their love for each other. As the sign read, "All Because Two People Fell in Love". But it was time to take their places and the processional began shortly! The groomsmen, bridesmaids, and stunt doubles (ring bearer and flower girls) all played their part well and entered the deck carrying beautiful bouquets designed by Ami from Cherry Blossom Bouquets. Phil walked Sandra half-way down the aisle and Dan came to meet her and take her the rest.
Karen, the officiant, proceeded with the ceremony and directed the new couple through a ribbon ceremony as well as a family-incorporated sand ceremony. Dan & Sandra exchanged custom vows as they looked deeply into each other's eyes and after a few family photos were whisked away into the forest for some grand photos with photographer Lisa Rudnick and of course some cinema shots with Josh and Roman from Evermoore Films. The redwood giants provided a gorgeous background for the newlyweds and the snow patched ground completed the landscape of this winter wedding. A quick trip back to Nature's Cathedral for some delicious bites of Nothing Bundt Cakes and the day was practically over.
But the story didn't end there! Dan & Sandra wanted to make sure that their friends and family who couldn't make it to the mountain got to celebrate their marriage too, so they planned a Bakersfield reception at Stockdale Event Center. It was now December and the tables were decked out with Christmas reindeer, pinecones, and poinsettias. Continuing the winter theme, the couple planned in all the special details like gingerbread men and candy cane cake toppers! Close family and friends stood up to toast to the bride and groom and wish them happiness in their new life together, and the night ended with the traditional bouquet and garter toss besides plenty of dancing for all. The newlyweds stole away from the crowd into the Garden of Memories and enjoyed – as they still do to this day – walking and talking and holding hands.
So if you're looking for a mountain wedding venue to rent, give Nature's Cathedral a call!
CREDITS
Starring: Dan & Sandra Duke
Location: Ponderosa, CA
Preps Venue: Nature's Cathedral
Ceremony Venue: Nature's Cathedral
Reception Venue: Stockdale Event Center
Wedding Designer: Nature's Cathedral
Photographer: Lisa Rudnick
DJ/MC: Ed Hayes
Dress: Enchanted Bridal
Alterations: Sew Elegant
Tuxedos: JoS. A. Bank
Floral Design: Cherry Blossom Bouquets
Cake: Nothing Bundt Cakes
Transportation: Airport Valet Express
Officiant: Karen
Music License: SongFreedom.com – "Happy Hip Green Folk" by Evan Andree
Cinema: Evermoore Films
Cinema Crew: Joshua Moore & Roman Flores

Likes: 2

Viewed:

source