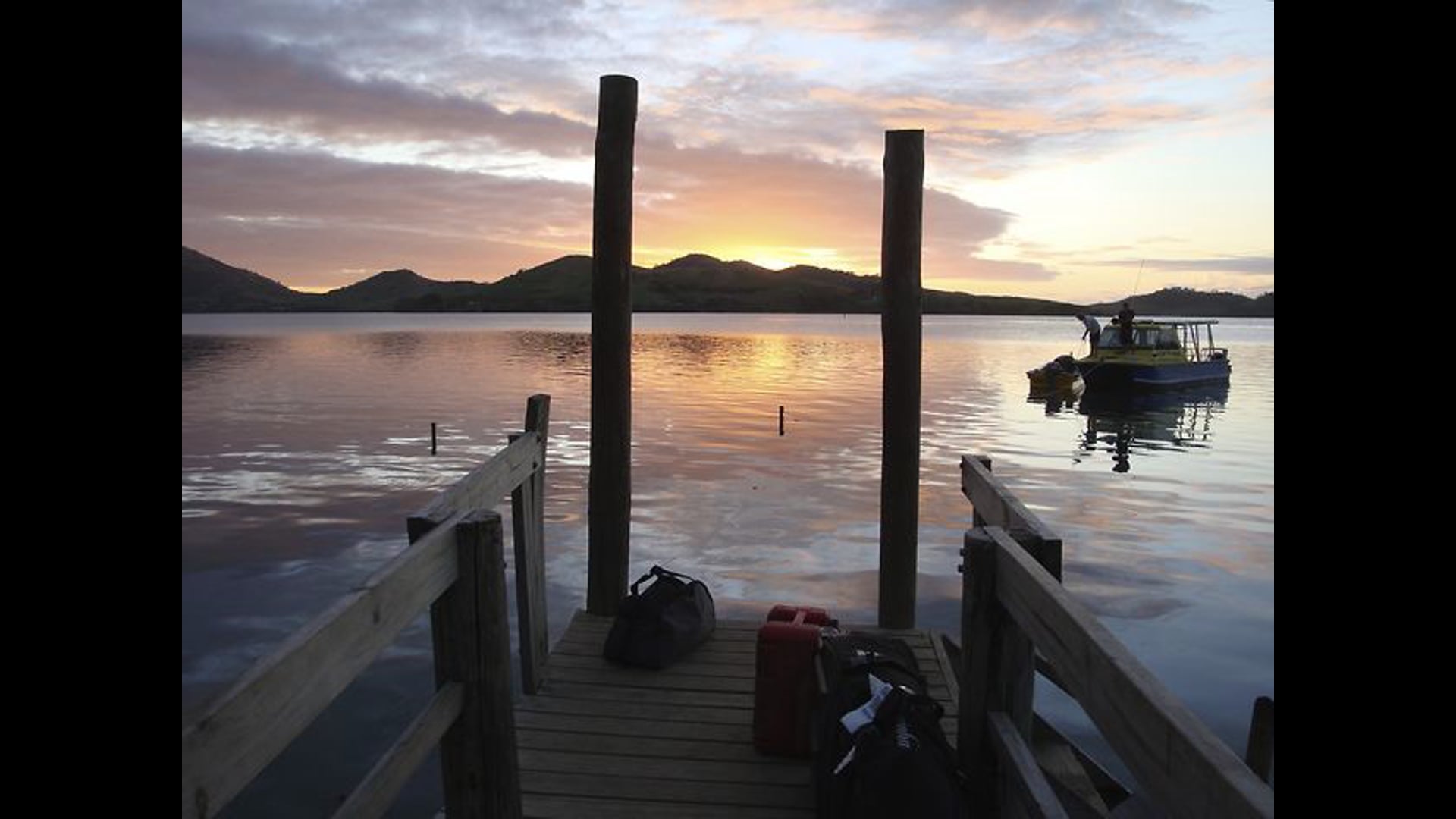 Bulla everyone! I just got back from beautiful Nananu-I-Ra island in Fiji where, as our avid blog readers should know, I was hosting the KPQ Fiji Clinic. Along for the ride were 13 lucky kitesurfers who spent the week learning new skills and techniques, albeit in a little less wind than we'd hoped…
On arrival at the airport, I was greeted by the very friendly Leone who was my driver for the trip north to Safari Lodge, on Nananu-i-ra island. His van was pretty beat up (ok, very beat up) but it got us there with no problems, and three hours later I was in a little yellow boat en-route to the island, watching the amazing sunset as we motored between the reefs.
Day one saw the most incredible wind conditions I'd ever seen, but not in a good way. There was not so much as a ripple as far as the eye could see, so we jumped in a yellow boat with a bucket full of snorkels and hit the outer reefs for the day. It was a great start to our holiday with plenty of fish and even a reef shark to look at while we swam around in the crystal blue water. After lunch, nobody really felt like doing much at all and the wind was a measly six knots; so I pumped up my 10m Reo and grabbed a SUP board to kitesurf on. It didn't really last long – two runs and I was back in the hammock!
Over the next few days the wind steadily increased to around 14 knots. Skills (and boats) were tested in the light winds at Kite Point. There were more than a few rescues when the wind dropped right off and relaunching was impossible, but after the eighth boat landing, everyone was starting to get their lines organised without any tangles. Highlight of the mid-week sessions was Shaun, who is excitable at the best of times, successfully making his first run back and forward across the channel. Check out the video for evidence, but it was hilarious.
Most frustrating of all were two failed fishing trips, totalling 11 hours all up, where we lost two lures, got three bites and never reeled in a single thing. Even the boys with spear guns were unsuccessful – apparently the fish had the ability to turn into rocks on command, yeah right! Thankfully, no-one had to rely on us to catch dinner as the girls at the lodge cooked up incredible meals for us breakfast, lunch and dinner. It would have been nice to have some sashimi though!
During the week, the forecast temped us with green arrows on the last two days of the trip. As Friday drew closer, tension was building… Thursday night saw everyone in bed super early, with a 6am wakeup call and 8am departure, it was set to be a big day… Luckily for me (I was threatened with being tied to a palm tree for getting the forecast wrong) we woke to 16-20 knots and a great looking day ahead.
Downwinders are the bread and butter of Safari Lodge; you can choose a five-, six- or eight-kilometre downwind bash between the islands, so we chose the first option and got in the yellow boats for a day of downwinding action. After a slightly chaotic boat launch, everyone was off and I was in my element – skipping between riders, shouting instructions and fetching boards; the downwind run went without incident, and just before sunset everyone was back on the beach. Fiji bitters in hands, the group had a quick debrief before dinner, and then it was Jenga time!!! Call us the Jenga masters, but at 29 rows high we were only a few off the island record, and that's sayin' something after a 5km downwinder, we were wrecked…
On the final day, with 3pm flights out of Fiji and a possible 4 hour van ride home, we had to be quick – most of us were up at 5.30am (That's 3.30am Aussie time!!!) and the wind was cranking! The boats slammed head-on into the 20 knots plus south-easter, and we were lovin' it. The girls had their best run all week, with plenty of turns and some long runs without falling off, Shaun had another great day with comfortable riding in both directions, and I finally got a good run when I stole his kite for the last half of the downwinder. What a fantastic end to the holiday it was, everyone was stoked.
I really think this was one of the best kiting locations I've ever been to, the great location, (semi) reliable trade winds and fantastic hospitality from Warren, Steph and the crew at Safari lodge made it a really enjoyable experience. We'll be going back next year, and we might even be running two trips due to the popularity of this year's clinic. Check out the video below for an insight into our trip, and if you want to put your name down for next year, give us a call in the shop.
Finally, I'd like to thank everyone who came along, I'm really proud of how much everyone progressed, and thankful that I got to spend seven days with such an awesome group of people!!!

Likes: 2

Viewed:

source